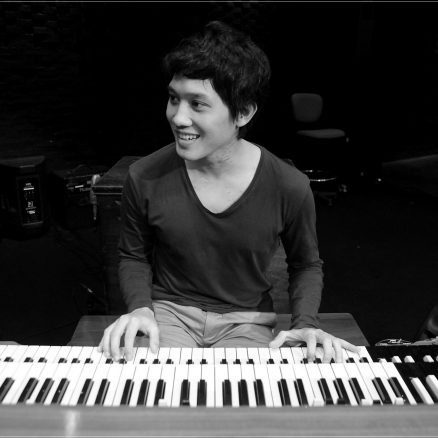 Sri Hanuraga – piano
Biography
Aga moved to Amsterdam from Jakarta, Indonesia to broaden his musical horizons. Since his father is a classical guitar player, Aga naturally showed more interest to the guitar during his early childhood and took lessons from his father. At the age of 13, Aga saw a video by the progressive Rock Band "ELP" which caused his interest in the piano to grow, and he decided to start studying piano under the guidance of his father. Since then, he has played in progressive rock and fusion bands and performed at several big festivals and at the AMI Sharp Awards 2002.
At the age of seventeen, Aga began to study Jazz piano with Indra Lesmana, the leading Jazz pianist in Indonesia. During that period he won the first prize at the JGTC Competition, and performed at some major Jazz festivals in Indonesia including the International Java Jazz Festival 2005.
Aged nineteen, he moved to Amsterdam to study Jazz piano at the Conservatory of Amsterdam. In April 2006 he won the soloist prize at the East of Eastern Jazz Festival in Nijmegen. In January 2009 he won the second prize in the YPF Jazz Piano Competition (with jury such as Jacky Terrason, John Taylor, Antonio Farao, Enrico Pieranunzi and Bobo Stenson)
In February 2010 his trio "Animated" was chosen to play at the Dutch Jazz Day in May 2010 and his composition was chosen to be released on a CD called "The Best Of Jazz Day".
In 2011, he was awarded with the "The Indonesian Young Talent Award" by the Java Jazz Festival. Soon after that, he won The European Keep an Eye Jazz Award 2011 for the category "Best Band" with the Daniel Master Quartet. In June 2011 he graduated cum laude (10 with distinction) from the master program in Jazz piano performance at The Conservatorium van Amsterdam.
Since his stay in Europe he has been performing in Paris, Nice, Cannes, Monaco, Belgium, Hungary, Germany, and Romania.