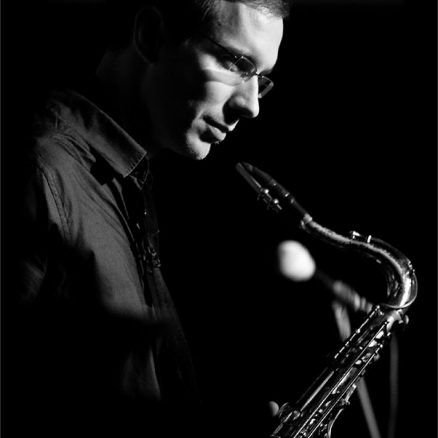 Dániel Mester – saxophones
Biography
Hailing from Budapest in Hungary he quickly established himself in Amsterdam. He started his musical education by studying classical guitar, followed by piano and classical clarinet. During his primary and secondary musical education he won several national prices (classical clarinet – first price; solfeggio third price; guitar – 1st price at the Budapest competition).
At the age of 18 he started to learn jazz-saxophone and later started a bachelor jazz-saxophone course in Budapest. After having obtained an ecomosist master-degree at the Budapest Corvinus University, he started a jazz-saxophone master course in Amsterdam where he graduated last year. Daniel is now studying at the Film-music department of the Amsterdam Conservatory, doing his third master course.
In 2007 he was among the first three winners obtaining "honourable mention" in the category of the age group under 30 at the Micheal Brecker International Jazz Arranging Competition (USA). With the young promising Hungarian band, the "Oláh Szabolcs Quartet" he played throughout Europe, winning the best soloist award at the Barga Jazz Festival (Italy) in 2007. He was selected to the Metropol Orkest International Arrangers' workshop in 2009 in Amsterdam. The same year he won the Hungarian Jazz Composition Competition with his piece entitled "Odds". The Daniel Mester Quartet won the Amsterdam-based European "Keep an Eye On Jazz" competition this year.