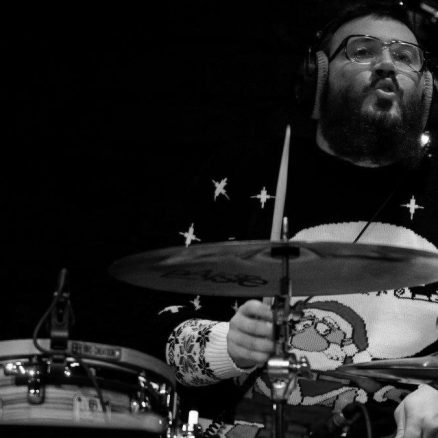 Andris Buikis – drums
Biography
Born in Latvia, Çrgïi city in 1982. In age of 7 joined Grammar and Music school in Madona as classical pianist and after 4 years switched to bass guitar.
Before joining rock Highschool nr. 100 in Riga in 1999, Andris played with Madona's heavy rock bands as pianist, guitar player, bass guitar player and vocalist.
Andris starts Highschool as electric guitar player but switches to drums in 2000.
In 2002 Andris got Scholarship in Berklee college of music but financial squeeze does not allow him study there.After finishing Highschool in 2002, Andris was already most demanded drummer in Latvia and played with such artists as "KEKSI", Arnis Mednis, Jânis Stîbelis, Dons, Intars Busulis, Aija Vîtoliòa, Laimis Râcenâjs, Laima Vaikule, Marija Naumova, Uldis Marhileviès,Raimonds Pauls and many other artists of Latvia.
Sony Jazz Stage 2008 Grand Prix award as jazz drummer.
In 2009 went to Amsterdam and finished Conservatory in 2013 there as Jazz drummer.
Played there with various Dutch jazz artists such as Harmen Fraanje, Clemens van der Feen.
As well he is still playing with international, contemporary jazz bands as "The Brag Pack" and "K Trio".
From 2013 Andris went back to Latvia and teaches drums in rock school "BJMK" as well as plays and works asstudio session drummer.In 2014 Andris signs contract with Latvian drum company "BROCREATION" and is one of the main artist of their production.
My Latest Live Session